FILM HOME PAGE
Films between 1919 & 1939
Films between 1940 & 1949
Films between 1950 & 1959
Films between 1960 & 1969
Films between 1970 & 1979
Films between 1980 & 1984
Films between 1985 & 1989
Films in 1990
Films in 1991
Films in 1992
Films in 1993
Films in 1994
Films in 1995
Films in 1996
Films in 1997
Films in 1998
Films in 1999
Films in 2000
Films in 2001
IMPORTANT & NOTEWORTHY FILMS
FEATURING ASIAN PACIFIC AMERICANS

Films in 1998 (Part 1)
Click HERE for Part 2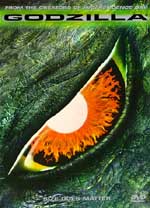 GODZILLA

(1998)
Directed by Roland Emmerich
Cast: Matthew Broderick, Jean Reno, Maria Pitillo, Hank Azaria, Kevin Dunn, Arabella Field, Michael Lerner, Philippe Bergeron, Vicki Lewis, Doug Savant, Harry Shearer, Malcolm Danare, Nancy Cartwright, Chris Ellis, Lloyd Kino, Stephen Xavier Lee, Roger McIntyre, David Pressman, Bodhi Elfman, Rich Battista, Daniel Pearce, Mark Fite, Bill Hoag, Ed Wheeler, Leonard Termo, Clyde Kusatsu, Masaya Kato, Stoney Westmoreland, Joshua Taylor, Monté Russell, Glenn Morshower, Eric Saiet, Jamison Yang, Nathan Anderson, Leonard Williamson, Franklin Vranicar, Pat Magee, Al Cerullo, Jamie Lawrence, Lynn Harder, Judy Reyes, James Black, Gary W. Cruz, Rob Fukuzaki, Dale Harimoto, Christopher Carruthers, Alex Dodd, Greg Collins, Ken Lerner, Raymond Ramos, Benjamin V. Baird, Joseph Badalucco Jr., Gary Warner, Leif Riddell, Craig Castaldo, Lincoln D. Hiatt, Al Sapienza, Toshi Toda, Joe Badalluco, Jason Edward Jones, Al Leong, Chris Maleki, William O'Leary

This film is a continuation of a successful team of Roland Emmerich and Dean Devlin - a Filipino American producer who has been entrusted with various high budget films! We should support this team on a creative basis and as a successful member of the Asian Pacific American community. As "gigantic monster reptile attacks New York" movies go, you've got to admit that Godzilla delivers the goods, although its critical drubbing and box-office disappointment were arguably deserved. It's a shameless, uninspired crowd pleaser that's content to serve up familiar action with the advantage of really fantastic special effects, and if you expect nothing more you'll be one among millions of satisfied customers. There's really no other way to approach it--you just have to accept the fact that Independence Day creators Roland Emmerich and Dean Devlin are unapologetic plagiarists, incapable of anything more than mindless spectacle that can play in any cinema in the world without dubbing or subtitles.
The whole movie plays out like a series of highlights stolen from previous blockbusters of the 1990s; it's little more than a rehash of the Jurassic Park movies. The derivative script is so trivial that it's unworthy of comment, apart from a few choice laughs and the casting of Michael Lerner as New York's mayor, whose name is Ebert and who closely resembles a certain well-known movie critic. Perhaps that's a clever hint that this movie's essentially critic-proof.It's stupid but it's fun, and for most audiences that's a fitting definition of mainstream Hollywood entertainment. The widescreen Special Edition DVD includes a wealth of bonus materials--audio commentary by the film's special effects supervisors, a "making of" featurette, the Wallflowers' music video "Heroes," a photo gallery, and a variety of features related to this and all the classic Godzilla films from Japan. --Jeff Shannon
THE REPLACEMENT KILLERS

(1998)
Directed by Antoine Fuqua


Cast: Yun-Fat Chow, Mira Sorvino, Michael Rooker, Kenneth Tsang, Jürgen Prochnow, Til Schweiger, Danny Trejo, Clifton González González, Carlos Gómez, Frank Medrano, Leo Lee, Patrick Kilpatrick, Randall Duk Kim, Alan Chan, Andrew J. Marton, Sydney Coberly, Yau-Gene Chan, Carlos Leon, Nicki Micheaux, Max Daniels, James Wing Woo, Albert Wong, Christopher Doyle, Joe Bucaro III, Robert Apisa, Norm Compton, James Lew, Thomas Rosales Jr., Jimmy Ortega, Al Leong
Versatile Hong Kong box office giant Chow Yun-Fat makes a Hollywood splash as a Chinese hitman beholden to a drug kingpin (Tsang, in an interesting reversal of his Hong Kong "crusty cop" persona). The good news is that he's free after one hit; the bad news is that the drug lord wants revenge on a cop who killed his son--by killing the cop's son. A tough-talking passport forger creates a new identity for our hero, but they've soon got to fight their way out to stay alive. First-timer Fuqua provides eye-candy visuals but little of the melodrama of his Hong Kong forebear (and executive producer), John Woo. It just leaves a final question, can Hollywood accept that an Asian / Asian Pacific American male can be romantically linked to a non-Asian woman!?!
BEST OF THE BEST: WITHOUT WARNING

(1998)
Directed by Phillip Rhee
Cast: Eric Roberts, James Earl Jones, Sally Kirkland, Phillip Rhee, John P. Ryan, John Dye, David Agresta, Tom Everett, Louise Fletcher, Simon Rhee, Chris Penn, Ricky Barnard, Cal Bartlett, Edward Bunker, Helen Funai, Danny Gibson, Edan Gross, Kane Hodder, Steve Hulin, Melanie Kinnaman, James Lew, Diane Mizrahi, Ken Nagayama, Ahmad Rashad, David Rody, Adrienne Sachs, Samantha Scully, R. Lee Telford, Greg Williams
The US national team travels to South Korea to compete in an international martial arts competition. Once there, a brash young member of the American squad goes out seeking revenge against the Korean champ who killed his brother in a previous match. Another member of the American team has entered the competition while still recovering from a shoulder injury, and he becomes dangerously distracted when his five-year-old son falls seriously ill. With this splintering of the squad's effort, a US win is in serious doubt. Will they recover in time to taste victory? Click HERE order a copy of this martial arts feast of fighting where the plot is not the most important thing to see.
CHINESE BOX

(1998)
Directed by Wayne Wang
Cast: Jeremy Irons, Li Gong, Maggie Cheung, Michael Hui, Rubén Blades, Russell Cawthorne, Jared Harris


This time, Wang tries to stand the old Suzie Wong paradigm on its head with this tale of a British journalist (Irons) now dependent on the Hong Kong woman he once dominated. But whether Wang succeeds is open to debate. In case we miss the point, the story is set on the eve of Hong Kong's hand-over to China. As the female lead, Gong Li, China's first lady of the screen, makes her bid for Hollywood stardom. However, this meandering film's real stand-outs are Maggie Cheung's in-your-face performance as a scarred squatter who refuses to let Irons control her and the mind-bending second-unit photography by Hong Kong-based cinematographer Chris Doyle (" Fallen Angels," "Temptress Moon ").
site design by Asian American Artistry
for any questions regarding the content, please contact Asian American Artistry
Copyright © 1996-2003 - Asian American Artistry - All Rights Reserved.